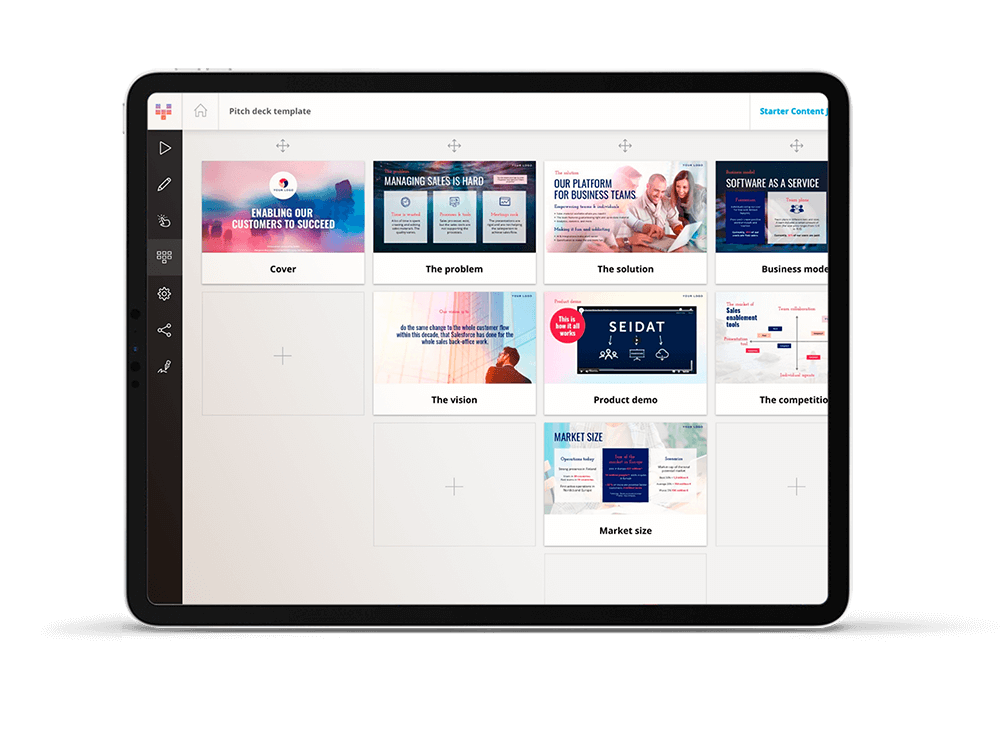 The Many Features of Seidat
Create, present, share and manage your sales materials in one app.
Creating
With Seidat it is easy to be creative with its' versatile content options, and keep your brand coherent with simple brand management.
Easy editing

Seidat's presentation editor is easy for anyone to use. Upload your logos and images, use your brand font, create new slides or use templates to create presentations.

Media Bank

Save all of your images and assets in your team's shared image bank. It's always easy to find the latest logos and branded content for everyone in your team. 

Multimedia content

In addition to using images and texts in your slides, you can embed videos, 3D content, panoramas, GIF animations, websites, web forms, Google Sheet graphs and anything you can think of onto your presentations.

Brand Management

Seidat's team-specific brand management enables uniform brand identity. All the members of your Seidat workspace will use only brand fonts and only in the colors allowed by the brand color palette. Seidat allows you to use all fonts without having to install them. It has been made possible that your slides will always be uniform for all of your team members regardless of the equipments they are using.

Slide bank

Every slide you and your team members create is saved to the slide bank in Seidat. Picking slides from there is an easy way to create new slide decks by utilising previously made material.

PowerPoint Import

To get started with Seidat, you can import your existing PowerPoint slides. After the material is imported you can continue your work in Seidat, and the imported PowerPoints become Seidat presentations.
Presenting
Seidat makes it possible to use the same deck for any audience – No need to make a new one for every meeting.
Matrix Navigation

Seidat's two-dimensional matrix navigation in the presentations enables you to choose your slide path on the spot. You can organise your slides according to your chosen hierarchy. E.g. so that you can do a shorter presentation on the top level or dive deeper into more detail. This makes presenting more flexible for you and more interesting to your audience as you only have to show the most relevant slides.

Tracked Link Sharing

Using shared link tracking you can see which presentations have been viewed and for how many times – in real-time. Personalise your links to see who the viewer was as well!

Online presenting

Seidat's presenting feature for online meetings, Live Share, enables you to share slides in real-time anywhere in the world, with any device – to any device. Seidat uses very little bandwidth – it is so light to use.

Presenter View & Notes

Seidat's extensive presenter view enables you to see all of your slides at one glance and smoothly pick any slide you want to show. See your team's shared slide notes and stay on top of your game.

Offline

Download your presentation for offline use before meetings that are held out of internet reach. Still get matrix presentation structure and a wide presenter view!
Collaboration
Enhance your co-operation concept with Seidat's collaboration features.
Shared Dashboard

In Seidat, all the company's presentations are managed in one place – Seidat cloud. Each user can customise their own  dashboard so that they can find the latest presentations of the chosen categories – for example, their own sales presentations. The tags used in Seidat make it easy to find the right presentations among the thousands of similar materials. Collaboration is easier and it increases transparency, when everyone has access to all the materials.

Workspace Management

In Seidat app, you can perform key workspace management tasks completely independently. You will be able to manage the billing information, billing methods (card payment or invoice), billing periods, workspace size and available features. The application stores all payment transactions for future reference and we will also send the receipts to your email.

Advanced User Rights

Seidat makes it easy to manage your workspace members and access levels. Access levels are managed at the workspace level and they can be specified on a presentation level. Access levels are roughly divided into presenting, sharing, and editing rights. In addition, there are separate rights for brand management and user management.

With rights, you keep your material consistent, up-to-date, and accessible to everyone.

Cloud-based app

Seidat is a cloud-based app that can be accessed from any modern internet browser. So, your Seidat presentations are always available at any time – on any device. This is ideal for companies with multiple branches and/or remote work cultures.
Integrations & Analytics
Make Seidat a seamless part of your marketing and sales ecosystem.
Zapier (4000+ apps)

Zapier is an automation and integration tool that works without having to code. Use it to easily create automation between Seidat and numerous different apps and software.

Analytics Integrations

Collect data of the people viewing and visiting your presentations by integrating your analytics apps with Seidat. Analyse your presentation usage internally as well as externally and use the data to develop your ways of working.

Google Analytics
Google Tag Manager
Google Data Studio
Leadfeeder
Hubspot

CRM Integrations

There are usually three types of goals in integrating a Seidat and a CRM system:

Automatically create presentation materials for Seidat using data from the CRM system (e.g. proposals)
Ensures that the offer document in Seidat is linked to the CRM
Transfers usage analytics or note data from Seidat to CRM

All of these goals are united by the ultimate idea of ​​saving time, harmonising processes, improving quality, and increasing sales results.

The integrations are implemented as direct native integrations, customized using the API or utilizing ready-made Zapier integrations.

The most typical CRMs to integrate with Seidat are Pipedrive, Hubspot, and Salesforce.

Tracked Link Sharing

Using shared link tracking you can see which presentations have been viewed and for how many times – in real-time. Personalise your links to see who the viewer was as well!

Media Bank Integrations

Integrate Seidat's media bank with your Facebook, Instagram, Google Drive, and One Drive to bring assets available to your Seidat workspace members.

Content from other web services

You can embed content on your presentation slides from other web services using iFrame technology. This enables you to do everything, that is possible on websites.  Note, that it makes it possible to keep slide content up-to-date without having to update it at all in Seidat. For example, when updating a Google Sheet or an Excel Spreadsheet, the updates can be automatically seen in an embedded chart in Seidat. Only the imagination is the limit when you think about the possibilities.