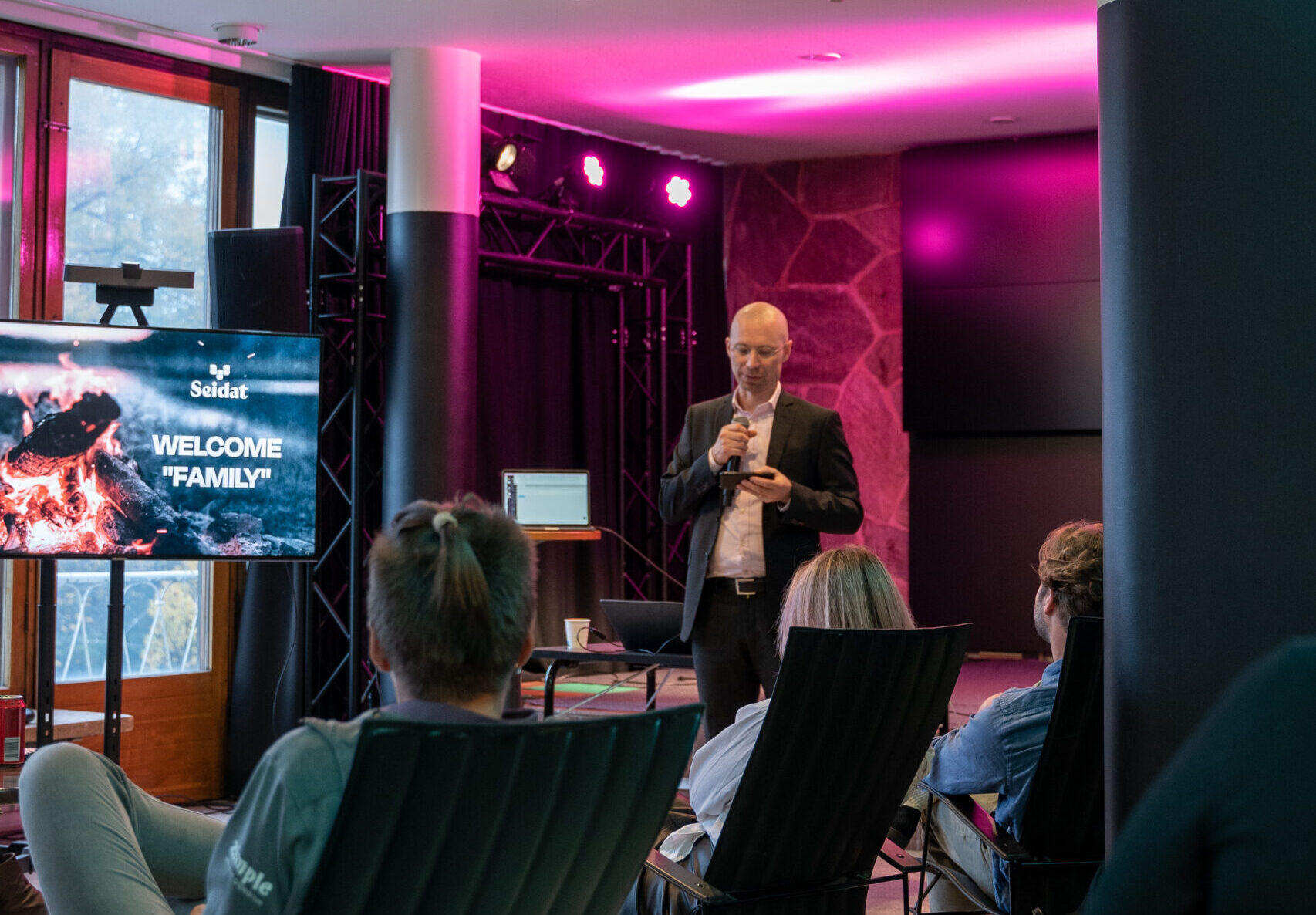 Seidat in exhibitions and events
Seidat is a great tool to use in exhibitions and events. Share your presentation on info screens and use autoplay or run the presentation manually.
We understand the power of effective communication in events and trade fairs. In today's fast-paced business environment, making a lasting impression is more crucial than ever. That's where presentations come into play, transforming ordinary interactions into extraordinary experiences.

Typical challenges when using presentations at events?
Utilizing presentations at events often poses challenges, like technical glitches and the hurdle of engaging the audience. To tackle these issues, you just need to use the right tools and methods.
How can presentations captivate and engage the audience without overloading them with text?

How to add the wow-factor to presentations to ensure a lasting impression?

How to create meaningful connections through the use of presentations?

How to stand out from competitors at events and exhibitions when using presentations?

How Seidat solve these challenges?
Organize information coherently with the Matrix Slide Structure, add engagement with Interactive Elements, and minimize text using versatile content options + slide notes

Impress with Seidat's versatile content options, including videos, gifs, hotspot buttons, embedded elements, and animations & utilize the matrix structure + presenter view for intuitive presentations to make an impact

Add social media links through hotspot buttons and embed booking calendars directly into your slides, enhancing engagement and connection with your audience

Seidat's distinctive presenting features, coupled with its innovative creation and sharing capabilities, guarantee a standout experience compared to conventional presentations

How Seidat benefit you in events and exhibitions
By captivating audiences with minimal text, presenters can convey information more effectively, having the audience pay attention to them, leading to better understanding, retention, and engagement

The inclusion of dynamic features ensures presentations are not only memorable but also facilitate a deeper connection with the audience, enhancing the overall impact of the message

Integrating social media links and calendars directly into slides provides a seamless and interactive experience, fostering stronger connections with the audience and facilitating post-presentation engagement

Standing out at events and exhibitions is achieved through innovative features, enabling businesses to leave a lasting impression in a crowded and competitive environment
Seidat features for exhibitions and events
Offline

Download your presentation for offline use before meetings that are held out of internet reach. Still get matrix presentation structure and a wide presenter view!

Online presenting

Seidat's presenting feature for online meetings, Live Share, enables you to share slides in real-time anywhere in the world, with any device – to any device. Seidat uses very little bandwidth – it is so light to use.

Use With Any Device

Seidat is a browser-based app and it works on any device with any operating system – even on mobile. Have access to your presentations wherever you are!

Link Share

Easily share your presentation with anyone by delivering a link. Set an expiration date and see how many times the link has been opened or if it has been opened at all. You can also get notified when the shared link has been opened.

Thanks to Seidat's versatile content options, one shared link can contain an unlimited number of slides with videos, websites, 3D images, forms, links etc. There is no longer a need for multiple attachments in your emails!

Matrix Navigation

Seidat's two-dimensional matrix navigation in the presentations enables you to choose your slide path on the spot. You can organise your slides according to your chosen hierarchy. E.g. so that you can do a shorter presentation on the top level or dive deeper into more detail. This makes presenting more flexible for you and more interesting to your audience as you only have to show the most relevant slides.

Presenter View & Notes

Seidat's extensive presenter view enables you to see all of your slides at one glance and smoothly pick any slide you want to show. See your team's shared slide notes and stay on top of your game.

Multimedia content

In addition to using images and texts in your slides, you can embed videos, 3D content, panoramas, GIF animations, websites, web forms, Google Sheet graphs and anything you can think of onto your presentations.
"Every euro spent on Seidat has come back in multiples."
Johannes Karjula, CEO, Trustmary
Keep on reading

→