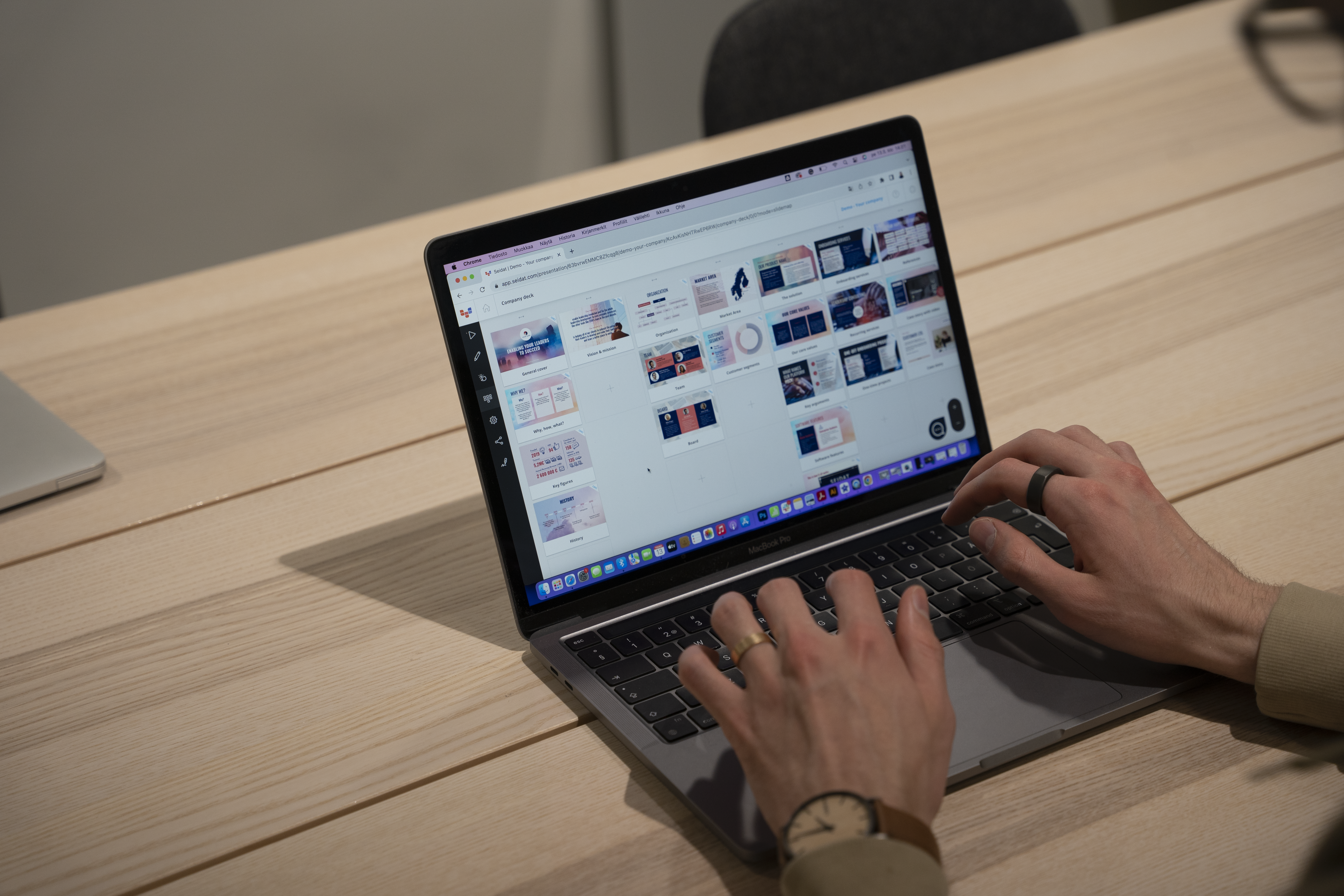 Senior Developer (React, Node)
Application period: 01.01.2023 - 23.04.2023
Seidat enables winning sales flows
Seidat meets today's challenges of sales teams in terms of editing, managing, presenting, sharing and analyzing navigable presentations, and is suitable for both smaller local and larger international companies. Our aim is to help businesses easily create and maintain presentations that can successfully tell their stories and support interactive discussions that will sell their products or services. Our platform is not a stand-alone solution — we integrate with marketing & sales ecosystem tools, as well as help companies share content with each other.
About the job
After recently raising funding, we are looking to beef up our product development team in Helsinki. This position offers an opportunity to put all of your expertise to good use, learn, experiment and pass your knowledge along. All that while making a direct impact in the field of B2B sales software.
As a Senior Developer, you'll design and build new features on both the frontend and backend, as well as maintain and improve our existing code base (which is tidy) and cloud infrastructure. We expect you to take ownership of your work, make decisions on the technology and architecture, mentor and support your teammates, and be on the lookout for the latest trends and best practices in the industry. Once you've developed an understanding of our business and product, you'll participate in shaping our product roadmap. Your input will contribute directly to the company's growth.
What we look for
This is a senior position, so it will be a good match if you:
Have relevant web development experience, preferably in SaaS

Are highly proficient in React and Node

Are familiar with modern cloud computing solutions

Pay attention to detail and are security conscious
Our culture
At Seidat, we trust our employees and want them to have room to grow in the direction they want. In our mostly flat hierarchy, advancement is achieved through deeds, not years. We may be a small team, but we are working together, so the capability for teamwork, a proactive attitude and in general being a "good fit" is essential.
It's always a team effort to make things work, so building and keeping our team spirit up is very important to us. You get the freedom to do your job your own way, choosing your work schedule and if you want to work from home or come to our office in Maria 01. We have regular company get-togethers and Maria 01 community events, and we also like to think we're fun people to be around. On top of that, we offer a 50% lunch card, phone + subscription, headphones, bike benefit, gym at the office, comprehensive occupational health insurance and 1h/week for self-development. Our key employees are offered to become partners in the company ownership.
If you have examples of relevant projects that demonstrate your mad coding skillz, we'd be happy to see them as part of your application!
Recruiter
The recruit has been closed
You can still find the contact info of the recruiter from below.