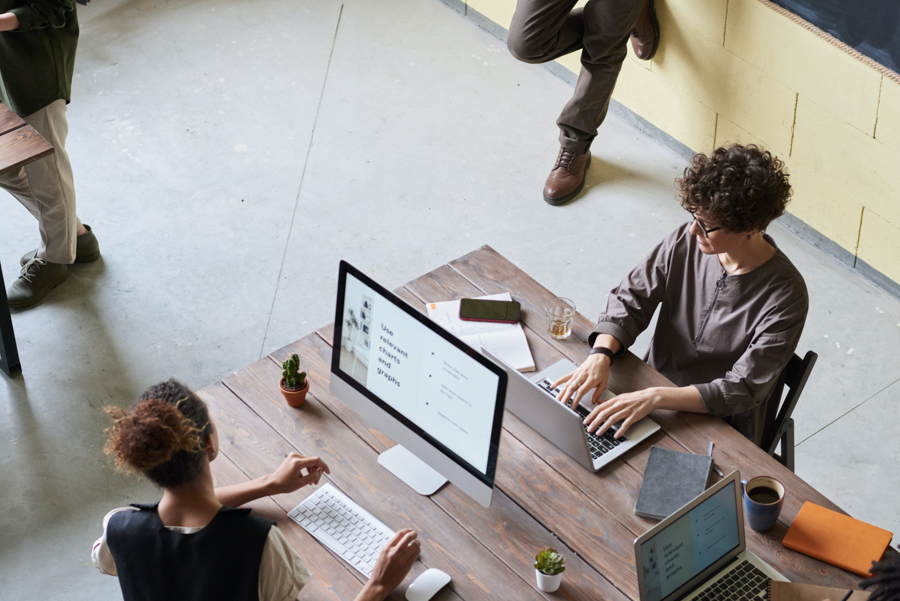 Sales Enablement: The Definitive Guide
26.10.2022
Sales enablement is the key to successful selling. If you're ready to discover how you can improve the bottom line of your business with the right resources for your salespeople, this guide is for you.
Driving revenue for your business is a lot easier when you have the right resources, materials and tools to make that happen. Later on we'll dive into advanced strategies that can help your sales team fill their quotas, but first let's cover the basics of sales enablement.
What is sales enablement?

By definition, sales enablement is about improving the sales force's performance by providing salespeople with the correct information, tools, training, and support. Sales enablement enables them to be more successful and close more deals.
In today's complex selling environment, buyers are better informed and have more options than ever. They can easily find information about your products and services online, so your sales team must be armed with the latest knowledge and resources like up-to-date sales presentations. Sales enablement ensures that your team has what they need to be successful.
Why should you care about sales enablement?
Sales is getting harder every year with more power moving to the buyer. According to 2022 survey by Salesforce, 73% of sellers said their jobs are becoming more consultative and less transactional. Being great at demonstrating features and benefits of your product is not going to cut it anymore – you have to understand the problems your customers are facing on a deep level to add value in your sales dialogue. 
When done right, sales enablement helps you build a system that guides your sales people to deliver aligned messages to the right people at the right time. The result? More revenue, bigger deal size and better win rate.

In short, investing in sales enablement can help your sales team be more successful and close more business. Sales enablement should be an integral part of any company's go-to-market strategy.

Elements of sales enablement
There are many different aspects to sales enablement, but the most common elements include:
Content:
Creating or curating content that will help your sales team sell more effectively. Sales materials could include presentations, product collateral, case studies, blog posts, or social media content.
Training:
Providing training on your products and services and selling techniques is a vital part of sales enablement. Training could be in e-learning modules, webinars, or in-person training sessions. Seidat cloud-based online presentations are an effective way to manage and share content because Seidat presentations can be used in all training concepts.
Technology:
Ensuring that your sales team has the right technology tools to do their job effectively. Tools might include CRM software, proposal generation software, or presentation tools. We encourage you to select technologies so that they are always an integral part of your current ecosystem. For example, Seidat has extensive integration options for thousands of applications via Zapier and more options you can get by our API. Via integrations, you have great opportunities to automate proposal creation processes or send guides with person-level trackable links.
Support:
Providing ongoing support to help your sales team succeed. Support concepts could involve coaching, mentoring, or simply being available to answer questions. Access to your sales material 24/7 with any device is integral to supporting sales to get better results. 
What KPIs are used in sales enablement?
These metrics are at the very heart of your business, and whether you focus on improving them can make or break your business. Consider the following metrics:
Win rate: Calculate the percentage of deals that your sales team successfully closes.
Deal size: Track the average size of deals closed by your sales team
Customer acquisition cost (CAC): Determine the total cost of acquiring a new customer, including marketing and sales expenses.
Customer lifetime value (CLV): Estimate the total value that a customer is expected to generate over the course of their relationship with the business.
Sales cycle length: Measure the length of time it takes for your sales team to move a prospect through the sales funnel from initial contact to final purchase.
Once you've checked how you're doing in terms of KPIs, choose which one to improve and set a new target for it. Then you can define what behavior changes your team needs and shape that with proper training. Adjust based on feedback and impact, and run this process regularly to build a well-oiled sales machine!
Keywords: Seidat for Sales Teams Seidat for C-levels Sharing Collaboration Integrations & analytics